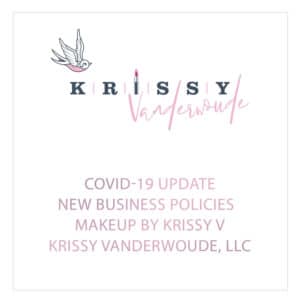 As per the State of Indiana "Back On Track" action plan, put into place by Governor Holcomb, salons and other personal service businesses are allowed to begin performing services in Lake County, IN as of May 18th. Much of my work, especially weddings, that I already had scheduled in the coming months have been cancelled, postponed or rescheduled. However, I will slowly begin working again soon. I want all of my clients, and potential clients, to understand that NO amount of money in the world is worth more to me than my safety and the safety of my clients. I am fully aware of the risks associated with my profession and will be putting the health of myself and my clients at the forefront of every decision I make, and every action I take.
In an effort to minimize the spread of this disease, this means I will need to make some changes to the way I do business and I would like to outline those details here.
My action plan is as follows:
Prior to performing makeup services, all clients will be asked to read a document, answer Covid related questions honestly and sign a consent form/liability waiver before the start of the makeup application.
Document will read as such:
New measures of safety and sanitation protocols are being implemented into all services performed by Krissy Vanderwoude, LLC. Many of these precautionary measures have always been a part of Krissy's professional business practices, under state licensing guidelines. However, some additional measures are being taken, for the safety and comfort of all clients. Those are as follows:
Makeup brushes will no longer be cleaned between clients on the work site. At the start of each service, a clean set of brushes, which have already been sanitized, deep cleaned and pre-portioned into individual bags prior to the appointment, will be used on each individual client. After their makeup application has been completed, these used brushes will then be placed in another bag. At the completion of the entire job, the brushes will be taken off site in order to be deep cleaned and properly disinfected again.
Although certain approved sanitizing mists and alcohol, which have been proven to kill 99.9% of surface bacteria and viruses, have always been used in Krissy's business, additional measures for the enhanced safety of all clients will be taken. In an effort to increase the level of protection, and avoid risk of cross contamination, ALL powder products to be used in the makeup application (ie: eyeshadow, blush, bronzer, etc) will now be scraped from their original container and dispensed directly onto a disinfected stainless steel palette, or into a tissue. The stainless steel artist palette, or tissue, is the area that the artist will now pick the color up from, instead of placing a brush into the original powder palette. The steel palette will then be properly cleaned and disinfected with a hospital grade, EPA certified, bactericide/fungicide/virucide between each client.
As was always the case previously, and will continue to be, all cream products (eyeliner, concealer etc) will be decanted from their original containers with a disinfected stainless steel palette knife, onto a clean and disinfected stainless steel palette. Krissy will work from this palette and never dip a brush into the actual makeup container.
All mascara will be applied with a disposable mascara wand, which will never be dipped into the mascara container more than once. NO double dipping will take place. Each time more mascara is needed a new wand will be used and they will be properly disposed of after each use.
All lip products, including lip conditioner, lipgloss and lipstick will be applied with a disposable lip wand, and will be used only once. These wands will never enter the lip product container more than once and will be disposed of after each use.
Handwashing will be done before the start of the makeup application and use of hand sanitizer will be used frequently throughout the process. In cases where Krissy's hands will need to be in direct contact with clients skin, she will be wearing disposable gloves.
All nonporous surfaces will be cleaned and disinfected between each client. Please allow proper time for this when considering the appointment times and rotations of the makeup applications.
The chair that Krissy will have clients sitting in will be covered with vinyl and all surfaces of the chair will be sanitized between each client.
Krissy will bring a waste bin to dispose of all waste, disposable wands and paper towel between clients.
Until further notice, Krissy will be wearing PPE to perform all makeup services, which will include a mask, safety glasses and/or face shield and gloves where needed.
Client is encouraged to also wear a mask for the majority of the makeup application and remove it towards the end of the process, for the application of foundation and lip products only.
In addition to these steps, I will be monitoring this situation and will stay abreast of the latest information, including recommendations from the State Board of Cosmetology, the Indiana Department of Health, and the CDC to do my part in preventing the spread of disease.
I will continue to keep watch on the situation and make additional adjustments to this action plan if and when necessary. The health and well-being of everyone are of utmost importance to me and I will always take that into consideration as we are navigating these uncharted territories together.
Please do not hesitate to reach out if you have ANY questions for me. Thank you all for continuing to support me and my business through these difficult times. Although things will be a bit different for a while, and I may also look like a creature from outer space while I'm doing my job, I look forward to the opportunity to continue on in doing what I love so much.
With lots of love and gratitude,
Krissy V