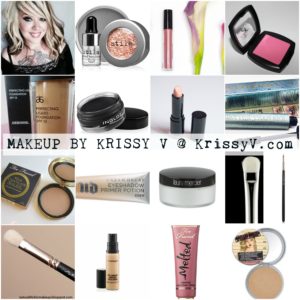 As a makeup artist, I am often asked what my favorite makeup products are.  Being the makeup junkie that I am, I am constantly trying out new products & always in search of the next best thing.  There are some things I will honestly tell you not to spend your money on.  However, that is not the case with these products…these products are worth EVERY penny!  This year I've truly come across some new game changers.  However, I have also stayed true to my roots & am holding strong to some of my "ride or die" products, that will go with me to the grave.  I've pictured a few of my favorites here, and will list those in detail, as well as some other top picks in this post.  If you have any questions about the products, and their performance, don't hesitate to ask!
I am now going to list some of my other faves, but won't be going into as much detail on those (or I'll be here foreva').  Feel free to reach out with any questions that you have, on any of these products!
Favorite eyeshadows: 
Fave Skin Primer:  Arbonne Primer
Fave Makeup Remover: MAC "Cleanse Off Oil"  (to be used prior to your regular cleansing routine, to remove face makeup)
Fave Eye Makeup Remover:  Neutrogena Oil Free Eye Makeup Remover – removes ERRRR'THANG with zero irritation (can be found at any local drugstore)
Fave Lip Stain:    "Shy" Lipstain by Younique (order here directly from my beautiful friend Melissa) – There are so many gorgeous colors available, but I love this one in particular because it just gives a "bitten" look on the lips.  Top with a lip conditioner, bada bing!
Fave Nude Lipliners:
Fave Eyeliner pencils:
Fave Brow Products:
Fave Brush Cleaner: Cinema Secrets – I LOVE this brush cleaner!  It will remove even the most waterproof products from your brushes, while also having a bristle conditioning and anti-bacterial property.  You can use this to spot clean brushes daily!
I also suggest doing a deep clean on your brushes every week or two.  For that, you can just use a gentle shampoo and warm water & then lay them out flat on a towel to dry overnight.
So, what am I forgetting?  Surely there is something.  If I think of it, I'll edit the post.  However, if you are curious about a product and you're not seeing it listed or addressed here, please feel free to ask!  I hope you will try some of these products & let me know if you love them as much as I do!